Online ASP.NET MVC Training for College Students & Software Professionals in Mumbai
ASP.NET MVC Online Training Testimonial
ASP.NET MVC Online Training Written Testimonial
"I found Abhishek Luv's online training after only a few minutes of searching on Google, and I am so lucky I did! The online training I signed-up for really provided me with all the essential information and skills which I was seeking, but the thing I was very impressed by was Abhishek's one-on-one teaching skills. These included a friendly approach to all discussions, structured and stepwise method for covering different topics and the clear explanations to any of my questions during the online training. I would highly recommend anyone who is looking to build their knowledge on ASP.NET MVC & Entity Framework to receive it through Abhishek's friendly yet very professional and efficient online training."
Bobby, London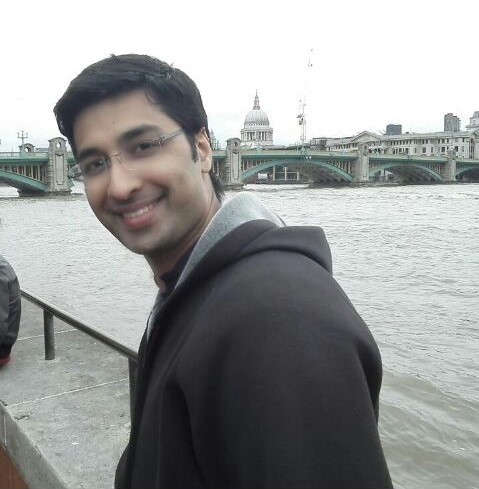 ASP.NET MVC Live Online Training (Skype Recorded Sample)
Skype Recorded Sample in English
Skype Recorded Sample in Hindi
What am I going to get from this Online Training?
Understand the Advantages of ASP.NET MVC
Grasp the Concepts of Routes, Controllers, Actions and Razor View Engine in MVC
Understand the Principles of Data Annotation and Validation
Deal with Security related issues with ASP.NET MVC
Get Comfortable using AJAX to post data Asynchronously with ASP.NET MVC
Able to use built-in HTML Helpers, Including Custom HTML Helpers
Learn about Authentication, Authorization and User Management using Identity
Able to use Bootstrap CSS Framework for creating Responsive Layouts in ASP.NET MVC
Able to do Data Access using Entity Framework Code-First with ASP.NET MVC
Get Comfortable with Advanced ASP.NET MVC Concepts like Custom Model Binders, Areas, Extending Controllers and Views
Able to use Design Patterns like Repository Pattern and Unit of Work Pattern for Data Access
Able to use Dependency Injection Framework like Unity/Ninject to create loosely coupled Application
Understand the Basics of Unit Testing using Nunit
Able to successfully deploy a Web Application to Azure Websites
Able to use ELMAH for Exception Logging
Problems with Computer Institutes in India (Students & Freshers)
No qualified teachers
No one sticks to their words in these computer institutes
They tell lies
Make false promises
No proper training
Batch doesn't start fast
Faculties are bad mouthed and give a shit about students and parents
NIIT : Not Interested In Teaching
Course durations will be for 5 months and you will end up roaming around NIIT for another 1 year
There is no value for the money you pay at these institutes
You will not gain any knowledge
Students are treated like beggars
Staffs use stupid PPT slides for teaching without any practical demos
Waste of time and money
Computer institute certificates don't have any values
3rd class infrastructure, bad behavior, false claims, teaching faculty with fake experience
Overview
What is ASP.NET WebForms?
What is ASP.NET MVC?
What to learn WebForms or MVC?
Latest version of ASP.NET : Will support only ASP.NET MVC and not WebForms
Introduction to ASP.NET MVC
The MVC Pattern and Architecture
ASP.NET MVC History
HTTP Basics for Web Developers
Getting Started with ASP.NET MVC
What is a Controller
What is Controller Action, ActionResult,
What is Action Parameters and Filters
What is a Model
What is a ViewModel
What is a View
What is Layout
Styling a ASP.NET MVC Web App
What is Routing in MVC
Convention over configurations
Displaying Data
HTML and URL Helpers
Rendering Data from Controller to View
Using ViewBag
Using ViewData
Using TempData
Using Sessions
Model Binding in ASP.NET MVC
Model Binding basics
Custom Model Binding
Benefits of Model Binding
Model Validation in ASP.NET MVC
Data Annotations for Model Validation
jQuery and Unobtrusive for Client-Side validation
Validation in the view
Data Access with Entity Framework
Entity Framework Code-First
Entity Framework Model-First
Entity Framework Database-First
Data Annotations
LINQ and Lambda expressions with ASP.NET MVC
Advanced ASP.NET MVC and Entity Framework
Data access patterns
Using Repository and Unit of Work patterns
Database concurrency
Sorting, Filtering, and Paging Data
WebGrid with ASP.NET MVC and Entity Framework
Security in ASP.NET MVC
Cross-site scripting
Cross-site request Forgery
Using Anti-forgery Tokens with Forms
Caching in ASP.NET MVC
Types of Caching
Using Output caching
Using Donut caching
Using Donut Hole caching
Understanding client-side caching techniques
Reusable Components
Partial Views
HtmlHelper extension methods
Display and Editor Templates
Logging in ASP.NET MVC
Enabling Custom Errors
Handling Errors in Controller actions
Defining Global Error Handlers
Logging and Tracing
Client-side Optimization Techniques
Anatomy of a Page
Best Practices for Optimization
Measuring client-side performance
Enabling Bundling
Enabling Minification
ASP.NET MVC optimization
BONUS : Git & GitHub (3 Days Online Training)
What is Git and GitHub
Git Concepts
File Management and Index
Git Commands
Git Extensions
Generating SSH Key for GitHub
Initializing a Local Git Repository
Configuring Remote Repository
Adding files to a Repo
Committing changes
Pushing Changes to GitHub
Adding a .gitignore file
Creating a Branch
Switching Between Branches
Merging Branches
Push local changes after merging
Reverting : Undoing a commit
GitHub : Forks
GitHub : Pull Requests
GitHub : Cloning
Who is Abhishek Luv?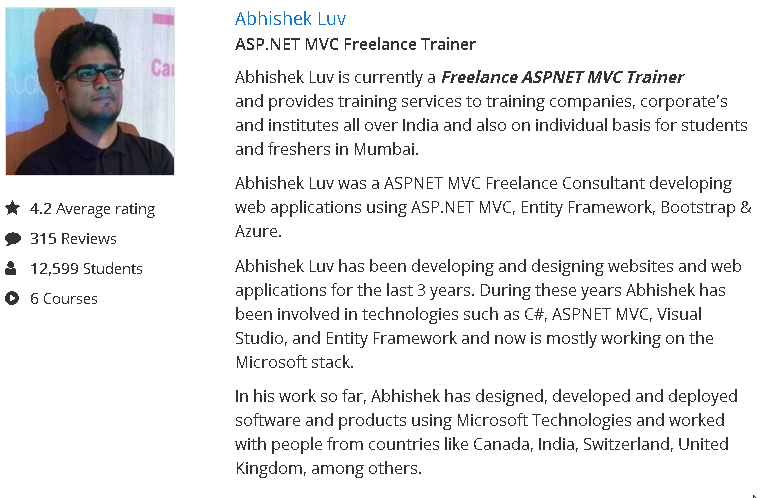 Training Duration : 20 Days ASP.NET MVC Training + BONUS 3 Days Git Training
Number of hours : 2 hours x 23 Days = 46 Hours
Type of Training : One-on-One Online Training for 1 Individual (Only 1 Participant)
Training Fee: Please Send me a message to know the fee
Prerequisites : Basics of C# Language
Training Mode: Online only (via Skype and TeamViewer)
Trainer: Abhishek Luv
Any Doubts/Questions? Please Send me a message
Send me a message
Note: Please don't contact me for your personal tasks like college or company projects.