Hello! My name is Abhishek Luv and I am a Freelance C# & ASP.NET MVC Trainer from Mumbai, India. I provide training services to training companies, corporate's and institutes all over India and also provide my online training services in Mumbai and overseas.
I have successfully done a lot of online training for clients from USA, Canada, Dubai, UK, London, Panama City, Colombia, Switzerland, Australia, Mumbai, and others.
Topics on which I provide Online Training:
Online One-on-One ASP.NET MVC 5.2.3 & Entity Framework 6 Training
ASP.NET MVC Online Training Video Testimonial
ASP.NET MVC Online Training Written Testimonial
"I found Abhishek Luv's online training after only a few minutes of searching on Google, and I am so lucky I did! The online training I signed-up for really provided me with all the essential information and skills which I was seeking, but the thing I was very impressed by was Abhishek's one-on-one teaching skills. These included a friendly approach to all discussions, structured and stepwise method for covering different topics and the clear explanations to any of my questions during the online training.I would highly recommend anyone who is looking to build their knowledge on ASP.NET MVC & Entity Framework to receive it through Abhishek's friendly yet very professional and efficient online training."
Bobby, London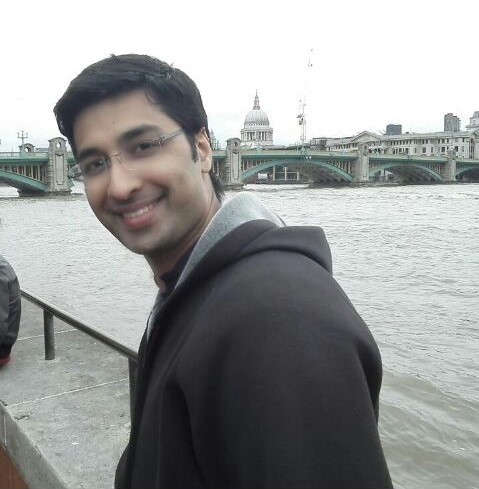 Understand the Advantages of ASP.NET MVC
Grasp the Concepts of Routes, Controllers, Actions and Razor View Engine in MVC
Understand the Principles of Data Annotation and Validation
Deal with Security related issues with ASP.NET MVC
Get Comfortable using AJAX to post data Asynchronously with ASP.NET MVC
Able to use built-in HTML Helpers, Including Custom HTML Helpers
Learn about Authentication, Authorization and User Management using Identity
Able to use Bootstrap CSS Framework for creating Responsive Layouts in ASP.NET MVC
Able to do Data Access using Entity Framework Code-First with ASP.NET MVC
Get Comfortable with Advanced ASP.NET MVC Concepts like Custom Model Binders, Areas, Extending Controllers, and Views
Able to use Design Patterns like Repository Pattern and Unit of Work Pattern for Data Access
Able to use Dependency Injection Framework like Unity/Ninject to create loosely coupled Application
Understand the Basics of Unit Testing using NUnit
Able to successfully deploy a Web Application to Azure Websites
Able to use ELMAH for Exception Logging
Overview
What is ASP.NET WebForms?
What is ASP.NET MVC?
What to learn WebForms or MVC?
Latest version of ASP.NET : Will support only ASP.NET MVC and not WebForms
Introduction to ASP.NET MVC
The MVC Pattern and Architecture
ASP.NET MVC History
HTTP Basics for Web Developers
Getting Started with ASP.NET MVC
What is a Controller
What is Controller Action, ActionResult,
What is Action Parameters and Filters
What is a Model
What is a ViewModel
What is a View
What is Layout
Styling a ASP.NET MVC Web App
What is Routing in MVC
Convention over configurations
Displaying Data
HTML and URL Helpers
Rendering Data from Controller to View
Using ViewBag
Using ViewData
Using TempData
Using Sessions
Model Binding in ASP.NET MVC
Model Binding basics
Custom Model Binding
Benefits of Model Binding
Model Validation in ASP.NET MVC
Data Annotations for Model Validation
jQuery and Unobtrusive for Client-Side validation
Validation in the view
Data Access with Entity Framework
Entity Framework Code-First
Entity Framework Model-First
Entity Framework Database-First
Data Annotations
LINQ and Lambda expressions with ASP.NET MVC
Advanced ASP.NET MVC and Entity Framework
Data access patterns
Using Repository and Unit of Work patterns
Database concurrency
Sorting, Filtering, and Paging Data
WebGrid with ASP.NET MVC and Entity Framework
Security in ASP.NET MVC
Cross-site scripting
Cross-site request Forgery
Using Anti-forgery Tokens with Forms
Caching in ASP.NET MVC
Types of Caching
Using Output caching
Using Donut caching
Using Donut Hole caching
Understanding client-side caching techniques
Reusable Components
Partial Views
HtmlHelper extension methods
Display and Editor Templates
Logging in ASP.NET MVC
Enabling Custom Errors
Handling Errors in Controller actions
Defining Global Error Handlers
Logging and Tracing
Client-side Optimization Techniques
Anatomy of a Page
Best Practices for Optimization
Measuring client-side performance
Enabling Bundling
Enabling Minification
ASP.NET MVC optimization
ASP.NET MVC Online Training Live Demo Sessions
Online One-on-One C# 6 Training
This training is for anyone who is new to C# Programming. This online training will give you hands-on knowledge about C# Programming. In just 10 Days you will learn and understand the basics of the C# programming language. This online training will ultimately help you to create better Web applications using the C# programming language.
C# Syllabus
Introduction to C# Programming
Decision making
Conditional Looping
Arrays and Strings
Classes and Objects
Data Methods
this keyword
Constructor
What is OOP?
Encapsulation
Overloading
Data Hiding
Polymorphism
Let's create a simple project
Inheritance
Overriding
Abstract class
Interface
Base and Static keyword
Collections and Generics
ArrayList, List, HashTable, Dictionaries
Dynamic keyword : var
LINQ
Delegates
Anonymous methods
Lambda Expressions
Sealed class
Const
readonly
Extension methods
Partial classes and methods
Enumeration
ref and out
variable no. of arguments
Named and Optional parameters
Struct
Read and write files
and more….
C# (CSharp) Online Training Testimonial
Topics on which I provide Online Training:
Convinced? Book Now!
Please connect with me if you're looking for a Freelance C# & ASP.NET MVC Trainer.