Online One-on-One C# Training and Coaching
This training is for anyone who is new to C# Programming. This online training will give you hands-on knowledge about C# Programming. In just 10 Days you will learn and understand the basics of the C# programming language. This online training will ultimately help you to create better Web applications using the C# programming language.
C# Online Training Testimonial
C# Live Online Training (Skype Recorded Sample)
C# Syllabus
Introduction to C# Programming
Decision making
Conditional Looping
Arrays and Strings
Classes and Objects
Data Methods
this keyword
Constructor
What is OOP?
Encapsulation
Overloading
Data Hiding
Polymorphism
Let's create a simple project
Inheritance
Overriding
Abstract class
Interface
Base and Static keyword
Collections and Generics
ArrayList, List, HashTable, Dictionaries
Dynamic keyword : var
LINQ
Delegates
Anonymous methods
Lambda Expressions
Sealed class
Const
readonly
Extension methods
Partial classes and methods
Enumeration
ref and out
variable no. of arguments
Named and Optional parameters
Struct
Read and write files
and more….
BONUS : Git & GitHub (3 Days Online Training)
What is Git and GitHub
Git Concepts
File Management and Index
Git Commands
Git Extensions
Generating SSH Key for GitHub
Initializing a Local Git Repository
Configuring Remote Repository
Adding files to a Repo
Committing changes
Pushing Changes to GitHub
Adding a .gitignore file
Creating a Branch
Switching Between Branches
Merging Branches
Push local changes after merging
Reverting : Undoing a commit
GitHub : Forks
GitHub : Pull Requests
GitHub : Cloning
Who is Abhishek Luv?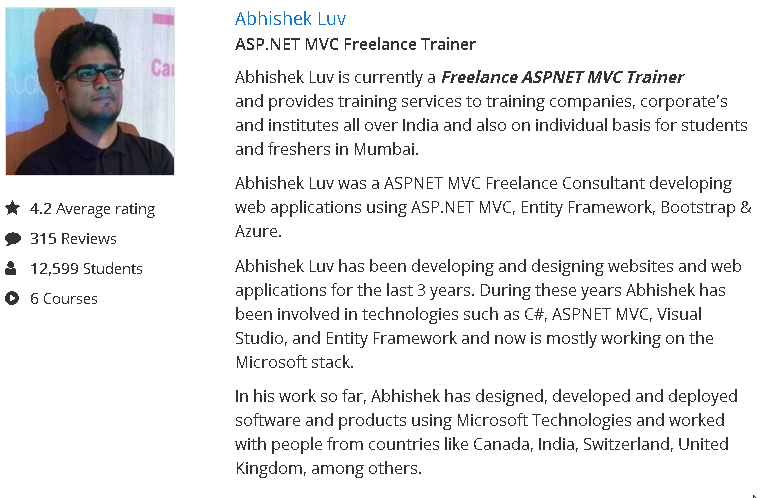 Online Training Fees : $400 $250 (New Year 2017 Discount Offer Available)
Training Duration : 10 Days C# Training + BONUS 3 Days Git Training
Number of hours : 2 hours x 13 Days = 26 Hours
Type of Training : One-on-One Training for 1 Individual (Only 1 Participant)
Prerequisites : Computer Basic Skills
Payment via PayPal $250 (Outside India only)
$400 $250 (New Year 2017 Discount Offer Available)
Payment via InstaMojo/Bank Transfer (India Only)
If you're from India and interested in doing this online training then please email me at abhishek@abhishekluv.in to know the fee details in Indian Rupees.
Any Doubts/Questions? Please Send me a message
Send me a message
Note: Please don't contact me for your personal tasks like college or company projects.