Git & Github Online Training
Training Outline
What is Version Control?
Installing Git and Git GUI software
What is Repository
Understanding What is an Index in Git
File Management and Classification in Git
Understanding Git Internals
Generating SSH Key for GitHub
Cloning/Downloading an Existing Repository
Basic workflow of Version Control
Ignore Files
Inspecting Local Changes
Staging and Committing changes
Commit History
Introduction to Branches
Creating and Navigating Branches
Merging Branches
Creating and Dealing with Merge conflicts
Undoing things using Git
Stash Saving changes temporarily
Tags
Remote Repositories
Pulling and fetching remote changes
Branching workflows
Understanding Pull Requests
Best Development Workflow with Git
Git Online Training Testimonial
Git & GitHub 90 Page Training Material
This 90 Page PDF book on Git and GitHub will give you hands-on demo on how to use Git and GitHub practically for any project.
Who is Abhishek Luv?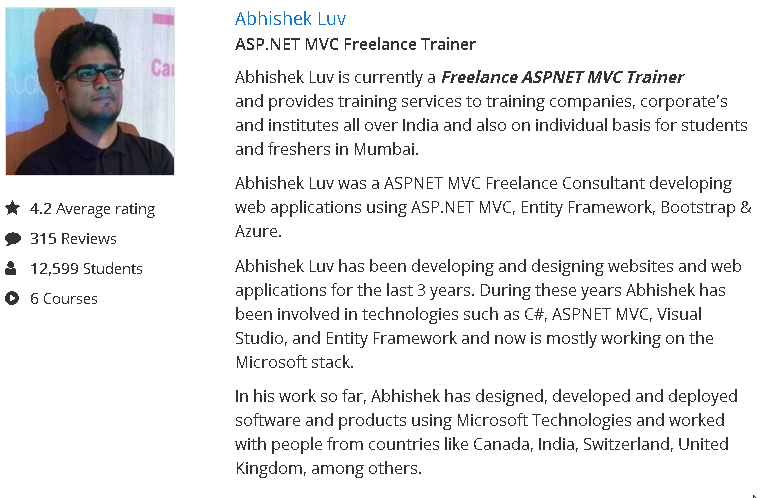 Online Training Fees : $110
Training Duration : 3 Days
Number of hours : 2 hours x 3 Days = 6 Hours
Type of Training : One-on-One Training for 1 Individual (Only 1 Participant)
Prerequisites : Nothing
Payment via PayPal $110 (Outside India only)
Payment via InstaMojo/Bank Transfer (India Only)
If you're from India and interested in doing this online training then please email me at abhishek@abhishekluv.in to know the fee details in Indian Rupees.
Any Doubts/Questions? Please Send me a message
Send me a message
Note: Please don't contact me for your personal tasks like college or company projects.