Online C# Training for College Students in Mumbai
This C# training is especially for college students who are finding it difficult to understand the language or can't afford to visit a computer institute.
In this training, you'll learn and understand all the basic in's and out's of the language.
Note: Please read the FAQ's before sending me a message.
Online C# Training Target Audience (India & Overseas)
College students who are interested in getting familiar with C# Programming Language
Fresher graduates who are interested in getting familiar with C# Programming Language
Any developer/programmer coming from other programming languages like PHP, VB6, Delphi, C, C++ or others will get a lot of benefit from this online C# Programming training
Web designers, Graphic designers, and front-end developers who are interested in getting familiar with C# programming language can register for this online training.
Junior & Senior Software Engineer, Database administrator, Network System Administrator who are interested in getting familiar with C# programming language can register for this online training.
C# (CSharp) Online Training Testimonial
Online Training Outline
This training is for anyone who is new to C# Programming. This online training will give you hands-on knowledge about C# Programming. In just 14 Days you will learn and understand the basics of the C# programming language. This online training will ultimately help you to create better Web applications using the C# programming language.
Day 1
Welcome to C# online training
Overview of C# programming language
Understanding type-safety and OOP concept
Visual Studio basics and features of VS
Writing your first C# program
CBOR: Code-Build-Debug-Run
Understanding assembly/namespace/class names
Looking under the hood of an Assembly
Compiling C# code using csc.exe
Understanding the purpose of the Main() method and its variations
Day 2
Understanding System.Console class
Understanding Built-in Data types and the corresponding underlying System types in the CTS
variable declarations and initialization
Looking at range of numeric data types: MinValue and MaxValue
Parsing string values to appropriate types
Understanding System.DateTime
Day 3
Understanding Strings
Commonly used methods of string class
String concatenation
Escape characters
Understanding verbatim strings
Strings and equality
Strings are Immutable
Understanding System.Text.StringBuilder class
Understanding Implicitly-typed local variables
Day 4
Methods and parameters modifiers

understanding default parameter behavior
out modifier
ref modifier
params modifier
optional parameters
invoking methods using named parameters
understanding basics of method overloading

More on Arrays

Implicitly typed local arrays
Array of objects
multi-dimensional arrays
Arrays as arguments and return values
understanding the System.Array base class

Understanding enum types

underlying storage type of an enum
declaring enum variables
understanding System.Enum
Day 5
Understanding structure types
Understanding value types and reference types
Passing by values and Passing by reference
Understanding nullable types
Using ?? operator
Day 6
Understanding OOP
Understanding what is a C# class
Understanding what is an Object
Saying Hello to Constructors
Using this keyword
Understanding static keyword

static field
static methods
static constructors
static classes

Understanding features of OOP

Encapsulation
Inheritance
Polymorphism

Understanding C# access modifiers
Day 7
Encapsulation using traditional accessors and mutators
Encapsulation using properties
Read only and write only properties
Static properties
Understanding auto-implemented properties
Understanding object initialization syntax
Understanding const keyword
Understanding read-only fields
Understanding static read-only fields
Understanding partial classes and methods
Day 8
Inheritance basics

Specifying a base class for an existing class
Multiple base classes
Sealed keyword

Controlling base class creation with base keyword

using protected keyword
using sealed keyword for classes and methods

Understanding polymorphism

virtual and override keyword
overriding virtual methods
sealing virtual methods
understanding abstract classes
understanding member shadowing

Understanding base class/derived class casting
Father class: System.Object

overriding ToString
overriding Equals
overriding GetHashCode
Day 9
Understanding Interfaces
Interface Types vs Abstract base Types
Defining interfaces
Implementing interfaces
Using as and is keyword with interfaces
Interface as a parameter
Interfaces as return values
Implicit and Explicit Interface implementation
Multiple Inheritance using Interfaces
Understanding IEnumerable and IEnumerator interfaces
Using yield keyword with iterator methods
Day 10
Understanding System.Collections namespace
Problems with Non-generic collections
Looking at Generic collections
Role of Generic Type T parameter

Specifying Type parameter for generic class/structure, generic members, and generic interfaces

Understanding collection initialization syntax
List, Stack, Queue, SortedSet
Creating custom generic methods
Creating custom generic structures and classes
Setting the Type parameter using where keyword
Day 11
Exception Handling
Throwing an Exception
Catching an Exception
Important Exception Data: TargetSite,StackTrace
Multiple catch statements
Finally block
C# advanced concepts and features
Understanding .NET Delegate types
Understanding generic delegates: Func<> and Action<>
Anonymous methods
Lambda expressions
Anonymous types
Extension methods
Custom type conversions
C# Events
Day 12
LINQ
Understanding Indexers
Understanding operator overloading
Day 13
File IO
Object serialization
Multithreading
Understanding async and await keywords
Day 14
Understanding Object Lifetime
Attributes and Reflection
New features in C# 6.0
New features in C# 7.0
Who is Abhishek Luv?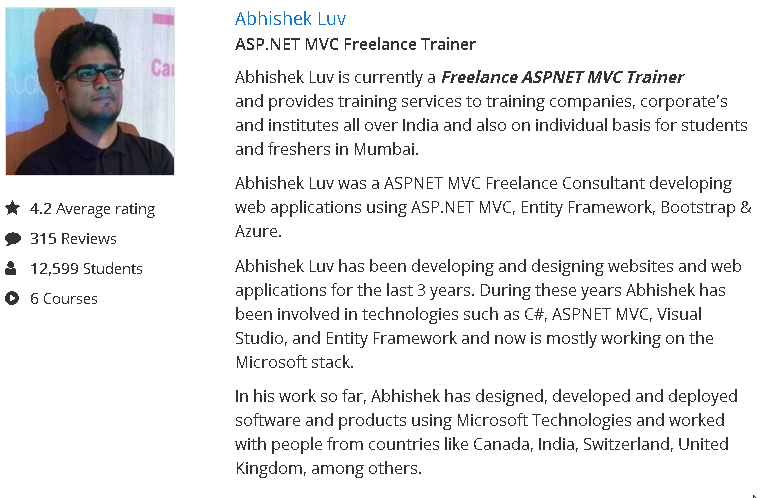 Online Training Fee
Please read the Training Requirements & Rules before registering.
Training Duration : 14 Days C# Online Training
Type of Training : One-on-One Online Training for 1 Individual (Only 1 Participant)
Training Fee: Please Send me a message to know the fees
Prerequisites : Basics Computer Skills
Training Mode: Online only (via Webex)
Trainer: Abhishek Luv
Any Doubts/Questions? Please Send me a message
Note: Please read the FAQ's before sending me a message.
Note: Please send me a message to know my availability.
Note: Please don't contact me for your personal tasks like college or company projects.
Please read the Training Requirements & Rules before registering.
Note: Registration is not done through whatsapp, email or phone. Please Fill the below given form to register for an online training. Fixed Rates. No Bargaining please excuse us.