Experience
Freelance Trainer , Abhishek Luv
---
From July 2016 till present
Hello! My name is Abhishek Luv and I am a Freelance C# & ASP.NET MVC Trainer from Mumbai, India. I provide training services to training companies, corporate's and institutes all over India and also provide my online training services in Mumbai and overseas.
I have successfully done a lot of online training for clients from USA, Canada, Dubai, UK , Ireland, London, Panama City, Colombia, Switzerland, Australia, Mumbai, and others.
Topics on which I provide Online Training: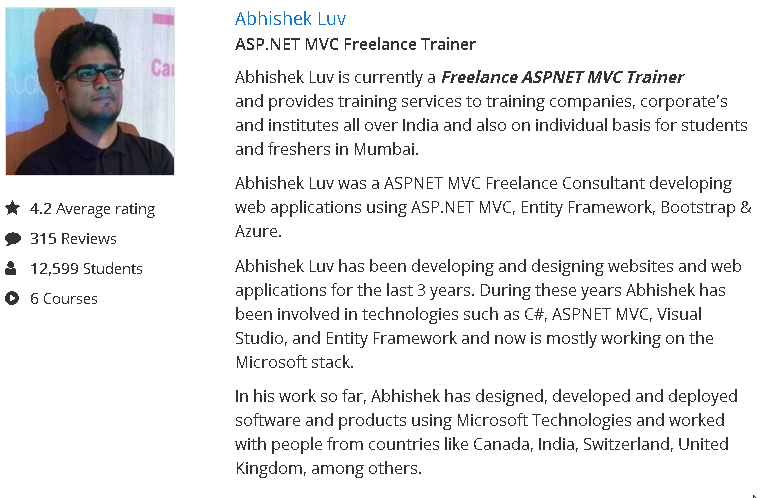 ASP.NET MVC Freelance Consultant, Abhishek Luv
---
From Jan 2014 - 30th June 2016
Worked as a freelancer developing web applications using ASP.NET MVC, Entity Framework, Bootstrap & Azure.
Building websites and web applications using C#, ASP.NET MVC, Design patterns, Entity framework, HTML5 ,CSS3, JavaScript, jQuery and Visual Studio.
Abhishek Luv has been developing and designing websites and web applications for the last 3 years. During these years Abhishek has been involved in technologies such as C#, ASP.NET MVC, Visual Studio, and Entity Framework and now is mostly working on the Microsoft stack.
In his work so far, Abhishek has designed, developed and deployed software and products using Microsoft Technologies and worked with people from countries like Canada, India, Switzerland, United Kingdom, among others.
He is a founder of the Orchard CMS India Community website, Orchard Beginner and a contributor to the official Orchard CMS documentation website and has created numerous online courses on Orchard CMS.
Outside of the normal day to day activities, Abhishek likes to hear music, motivational audio books and also record his own podcast show for Software Development Podcast Show
Software Engineer, Progorithms
---
From September 2012 - November 2013
Building and maintaining websites & web apps using Microsoft's technologies like C#, ASP.NET WebForms, SQL Server, etc.
Online Presence and Volunteering
Reviewing ASP.NET 5 Essentials - Packt Publishing
---
2015 till present
Currently, I'm reviewing a book called "ASP.NET 5 Essentials" by PACKT Publishing.
It's always fun reviewing books for PACKT Publishing.
This is my third book as a technical reviewer.
Reviewed Entity Framework Tutorial : Packt Publishing
---
June 2015
It was fun reviewing Entity Framework Tutorial book for Packt.
Reviewed Mastering Entity Framework : Packt Publishing
---
February 2015
Last year in the month of November 2014, Project Coordinators at Packt Publishing requested me to review a book for them and that book was about Entity Framework "Mastering Entity Framework" Published.
This was my first time and it was a great experience to review a book for Packt Publishing that too a book of my interest "Entity Framework".
Orchard Dojo Trainer
---
From July 2014 till present
http://orcharddojo.net/orchard-training/trainers/abhishek-luv
Orchard Beginner
---
From July 2014 till present
Orchard Project India Community Website
---
From May 2014 till present